About The School
Nestled in the foothills of the Shivalik Range, The ICS campus is situated in the picturesque garden township of Dalanwala known for the presence of prestigious school' located in the heart of Dehradun City, State Capital of Uttarakhand which enjoys the reputation of being one of the most liveable cities of India. The School was founded in the year 1990 and consequently got affiliated in to CISCE; New Delhi, for both ICSE (Matric) and ISC (Intermediate) examinations. The curriculum is well designed to ensure all-round-development of every child and The ICS with its green, clean and serene environment provides an ideal ambience for nascent minds. The school lays great stress on extra-curricular activities and facilities have been provided accordingly in the school campus. Dance, Music, Art and Craft are taught by the trained staff along with coaching for various indoor and outdoor games.
The world today is changing at such an accelerated rate that we as educators need to pause and reflect on this entire system of Education, from where we started 25 years ago and to where we are heading…. The school which had a humble beginning in the year 1990, today is well equipped with all modern teaching aids to support the dedicated teaching staff in our constant endeavour to instill ethos and principles in our students. We firmly believe in what once Aristotle said that, "Educating the mind without educating the heart is no education at all." As we match the advancement in technology and globalization, we focus on all-round-development of our students to help them grow and develop into sensitive and responsible citizens of future. As I see, we are fortunate to have a caring and co-operative parents community which blends very well with the efforts put in by the teachers and as a result creates a child-centric school atmosphere. We identify that every child has his/her own individuality and special skills for which we encourage participation in a lot of activities throughout the year to prepare them not just for the world full of competitions but also to give them an edge over the others, allowing each Cambrite to achieve success differently.
This year our school completed journey of 25 years. Journey of transforming crying toddlers to young educated, well mannered and ready to face world girls and boys. The journey of our students', teachers' and managements' dreams to destination. Journey of 'endeavor to excel' and the journey goes on. The progress and future depends of a nation depends upon the youth and how well nurtured they are. On the whole, the school education is unique investment in the present to take care of future. Here at The ICS we provide a comprehensive package of academics, extracurricular activities and co curricular activities to our students, which aim to bring out best from them, so that they excel in every sphere of life. The overall development of body, mind and soul of every student. Today everything changing at such accelerated pace. we have reached from carts to spaceship from landline phones to android and window phones from paper backs to kindle. Therefore it is essential for today's educators to be well equipped to face the challenges of excellence. Teachers' empowerment is another very important focus area of our school. It has been rightly said ," A journey of several miles begins with a small step"! Today as we sit back and look into the years recollecting those days that have rolled by when school started with just handful of students and teachers. It seems that the little seedlings has grown in full grown banyan tree which has stemmed its root deep making a huge impact in the lives of students. In the coming years, the focus area of school will remain to achieve fabulous board results and see our students being absorbed in the best institutes and universities across the globe. Overall development of each student is always our priority.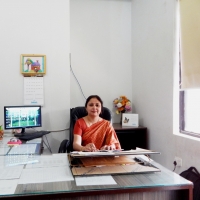 Key Information
Type of School :

Day Cum Residential

Afflilation / Examination Board :

ICSE

Grade-Day School :

Pre-Nursery till Class 12

Grade-Boarding :

Class 4 till Class 12

Min Age for Admission - Day School :

3Years

Min Age for Admission - Boarding :

NA

Language of Instruction:

English

Average Class Strength :

30

Establishment Year :

1990

Swimming / Splash Pool :

No

Student Teacher Ratio :

30:1
Tennis Cricket Foot Ball Volley ball athletics Basket Ball Badminton
Carrom Board Chess Table Tennis
Fee Details
Fee Structure - Day School
Admission Fees :

₹ 7000

Application Fees :

₹ 500
Fee Structure -Boarding
Indian Students
One Time Payment:

₹ 26,000

Yearly Fees :

₹ 298,000

`
Boarding Related Info :
Boarding Facilities For :

GIRLS
Hostel Admission Minimum Age :

08Y 05M
Hostel Admission Procedure :
Admission Details
Admission Process
The Indian Cambridge School admits students to Play-Group, L.KG, & U.KG, and to other Junior Classes up to III according to seat vacancies, on the basis of interviews held with child and parent. For Classes IV to IX, written tests in English, Science, Mathematics, and Hindi are held.
KEY DIFFERENTIATORS
Smart class
Science labs
High Equipped Computer Lab
Music Room
Results
Academic Performance | Grade X | ICSE
Academic Performance | Grade XII | ISC
Travel Information
Nearest Airport
Dehradun Airport
Distance : 28 Km.
Nearest Railway Station
Railway Station Dehradun
Distance : 4 Km.
Total Views : 2023
Similar Schools