About The School
VIVERLY PUBLIC SCHOOL, CBSE affiliated, established in 1995, has produced excellent results in its entire 25 year old history. Closely knitted with VPS, VERMA COACHING ACADEMY, Dehradun, Preparation for India's Top Boarding Schools Entrance Exams also goes hand in hand with VPS when it comes to Academic Results. 'Education is our passport to the future, for tomorrow belongs to the people who prepare for it today It is the kindling of a flame, not the filling of a vessel'. Both VCA & VPS truly understand the difference between Education and Literacy, one of the most fatal misconception of Modern-day world. Thus strive to Educate and Empower young children. VERMA COACHING ACADEMY is Over 30 years old Prestigious Institute for Preparation to get Admission in India's Top Boarding Schools. Cracking the Entrance Exams and Interviews (held all over-India) of some of India's Top Boarding Schools like: ------------ - The Doon School - Welham Girls' & Boys' - The Scindia School - The Lawrence School, Sanawar - St. George's College - Mayo College (Girls' & Boys') - Waverley Convent; to name a few --------- For past 30 years we have produced excellent results and have had hundreds of children graduate from VCA & VPS. Co-Ed Hostel Facilities Available. ___ For more Info Visit our Website: ---- vermacoachingdun.com
Passionate about the education, R.M. Verma is an accomplished Educator and Leader whose career has spanned more than 30 years. Having taught in India and abroad Mr. Verma has always been keen about teaching and educating the future generation, which has led him to found Verma Coaching Academy and then later on a school by the name Viverly Public School (from Playgroup to Secondary). VIVERLY PUBLIC SCHOOL is a institution that believes in creating rounded personalities of students. This deepens academic learning along with acquiring essential life skills. The world today no longer lives in comfortable isolated pockets, rather it is a global village where knowledge and education is shared world-wide. As such simply gaining knowledge from book is not sufficient. It has to be applied skillfully. In line with that Belief VERMA COACHING ACADEMY, which prepares for India's Top Boarding Schools, also moves forward empowering you children and their Future by helping them and their parents realize their Dream by getting into their desired Boarding School. Have Been for over 30 Years now.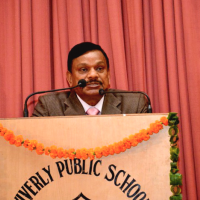 Throughout her career, Mrs. Vijay Laxmi Verma has advocated strongly for the education and believes firmly in the importance of leadership training and importance of encouraging young minds Mrs. Vijay Laxmi Verma holds B.Sc., M.A. Economics and M.Ed. accompanied with teaching experience of over 25 years. Has taught in Prestigious Schools and beginning her career as a Math/Science and English teacher, Mrs Verma has held a number of positions in the areas of administration. Our world and nation needs responsible and independent citizens capable of being decisive and aware with a strong foundation especially through these torrid times. What it is worth mentioning is the moral value system which brings out rounded individual personalities. In the impact of westernization, we seem to be losing our traditions and culture but not so at Verma Coaching Academy, We are proud to claim that Verma Coaching Academy has the right mix of both the worlds. It is said that intelligence cannot be acquired. However, we can build and grow the IQ by constant mental polishing, beside, we do not kill the EQ (emotional quotient), which keeps us going strong in this country. There is so much to share but 'The art is Long and the time is Short'. Our children/graduates have been able to leave their imprint on the path they have walked till now and the school has carved a niche of its own in the educational hub. One only has to visit our campus to have a first-hand experience of the ambience conducive to good learning. We, at Viverly, try to prepare our children to be good ambassadors of the world by providing education that is holistic and meaningful in the changing times.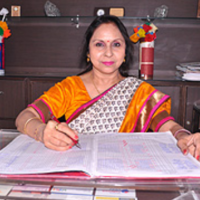 Key Information
Type of School :

Day Cum Residential

Afflilation / Examination Board :

CBSE

Grade-Day School :

Pre-Nursery till Class 10

Grade-Boarding :

Class 1 till Class 10

Min Age for Admission - Day School :

3Years

Min Age for Admission - Boarding :

NA

Seats at entry level Grade-Day School :

35

Seats at entry level Grade-Boarding :

80

Language of Instruction:

English

Average Class Strength :

25

Establishment Year :

1995

Swimming / Splash Pool :

No

Student Teacher Ratio :

18:1
Kho-Kho Badminton Basketball Volleyball Cricket Skipping Athletics P.T Yoga Aerobics Martial Arts
Chess Carrom Board Pyramids Table Tennis Block Games for Kids Indoor Team Activities Board Games
Fee Details
Fee Structure - Day School
Admission Fees :

₹ 10000

Application Fees :

₹ 1000

Security Fees :

₹ 10000
Fee Structure -Boarding
Indian Students
Admission Fees :

₹ 5,000

Security Deposit :

₹ 20,000

One Time Payment:

₹ 20,000

Yearly Fees :

₹ 225,000

`
Boarding Related Info :
Total seats at entry level Grade :

80
Total Boarding Capacity :

80
Boarding Facilities For :

BOYS_GIRLS
Hostel Admission Minimum Age :

05Y 00M
Accommodation Detail :
Separate Boy's & Girl's Accommodation, Toilets, bathrooms etc. with regular Supervision via CCTV & Personnel. Neat and Tidy, Spacious & Airy, High Ceiling Dormitories, Neat and Clean Toilets and Bathrooms.
Mess Facilities :
We provide Vegetarian/Eggetarian healthy & hygienic food which is cooked under supervision. Children have 3 main meals and 2 snacks on daily basis. All the menu is already scheduled and have variations in the food items which have been pre-planned to support and help the child's growth. Staff and cook are made aware of any specific needs of the child and that is catered. We take care and make sure that along with academics focus we also give similar attention to the health and physical needs of a young children and help their growth. We also have outings on monthly basis so that a child can have food of his/her preference every now and then.
Hostel Medical Facilities :
Medical safety is given utmost importance and personal need of the child is always catered and kept in check. We have our own doctor who checks the students Verma Coaching Academy on priority whenever the need arrives. If there is any Special need of the child that needs to be attended, parents need to make us aware of such a need and we are happy to comply with it. As we have had diverse group of students both age and demographic vise.
Hostel Admission Procedure :
For VERMA COACHING ACADEMY, (PREPARATION for TOP SCHOOL'S ENTRANCE EXAMS) ----- : Aptitude test is taken to see the Standard of the Child for Entrance in Different Schools. Subjects taken English, Hindi, Math. Oral Spoken English also Assessed. For More info Visit: (vermacoachingdun.com) ... VERMA COACHING ACADEMY, Dehradun.
Admission Details
Admission Start Month :

1 April
Admission Process
i) For VIVERLY PUBLIC SCHOOL: Aptitude test is taken to see the Standard of the Child for Entrance in Different Schools. Subjects taken English, Hindi, Math. Oral Spoken English also Assessed (http://viverlypublicschool.com/admission-procedure)_________________________ ii) For VERMA COACHING ACADEMY, PREPARATION for TOP SCHOOL'S ENTRANCE : Aptitude test is taken to see the Standard of the Child for Entrance in Different Schools. Subjects taken English, Hindi, Math. Oral Spoken English also Assessed. For More info Visit: (vermacoachingdun.com) ... VERMA COACHING ACADEMY, Dehradun.
Other Info
Building Infrastructure
Our Campus spread Over 5+ Bigha of land offers technology-rich and light filled learning areas, while beyond the classroom, students thrive in purpose built spaces that cater to every need. Separate Spacious Accommodation for Girls and Boys Young Learners (have facilities for children as young as 5 yrs to 15yrs) Big Dinning Hall Separate activity areas Security & Safety (Everything Supervised, CCTV etc.) Library Experienced Faculty Smart Classes Computer Labs Science Labs Music Room Outdoor Activities, Playground (Badminton, Basketball, Cricket etc.) Indoor Activities (Board games, Carom Board, Chess etc.) Hygienic & Nutritious Food Experienced Faculty (Tuitions, School etc.) Extracurricular Activities (Dramatics, Exhibitions, Singing, Dance etc.)
KEY DIFFERENTIATORS
Smart class
Martial Art class
Science labs
Centrally Located
One of the Teachers is National Awardee. He has Got Appreciation letter for Qualitative 100% results in Class X from HRD minister Smriti Irani.
Science Exhibition and the Exhibits displayed by the Students have been highly Appreciated by the Guests, Parents & Media
Every Year Our Cultural Programmes in Annual Function catch the Admiration of Guests and Media as we are known for Creativity and Simplicity at the same time.
Our Students bring Laurel to the School Every year in various Inter-School activities almost every year.
Results
Academic Performance | Grade X | CBSE
Academic Performance | Grade XII | CBSE
Travel Information
Nearest Airport
Jolly Grant Airport Dehradun
Distance : 29.8 Km.
Nearest Railway Station
Dehradun Railway Station
Distance : 3.4 Km.
Total Views : 1149
Similar Schools