Reading Time:
2
minutes
Vidya Devi Jindal School is an excellent Residential School located in Hisar, Haryana. The Vidya Devi Jindal school offers an amalgamated holistic education which makes the students confident to pursue their dreams so that they can succeed in the future.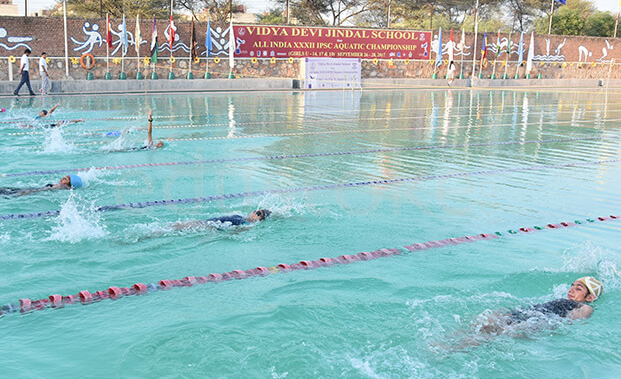 History
Vidya Devi Jindal School is a boarding school for girls in Hisar, Haryana, India that was established in 1984 by industrialist Om Prakash Jindal. It was the first venture of his Vidya Devi Jindal Rural Development Trust. Located in a picturesque beauty, Vidya Devi Jindal School is a progressive, leading girls' Residential School in Hisar, Haryana.
Infrastructure
The school is set in serene and calm surroundings. The spacious campus boasts of an meticulously designed and inventively constructed academic wing, a utility block, a large auditorium, a health club, an infirmary, a dining hall with a seating capacity of 1000 students, an outdoor Olympic sized swimming pool, a roller skating rink and four hostels to accommodate 800 students. Accommodation for all members of the school too is provided on the campus itself.
The school has been awarded by ASSOCHAM – The Best School Facilitating Sports with Infrastructure-2014
Academics
At the school for girls, affiliated with CBSE board, the medium of instruction is the English language. The school provides education that nurtures the traditions of our culture and also absorbs the finer influences of the west. It focuses on all round development of personality and thorough education of girls in order to make them conscientious and responsible citizens.

Clubs and Activities
The school has several activity clubs –
Nature Club
Electronic Club
Commerce Club
Debating Club
Photography Club
French Hobby Club
Cooking Club
Vedic Math
English Drama Club
Legal Club
IT Multimedia Club
Recitation Club
Fine Arts Club
Paper Mache Club
Sculpture Club
Dance
Vocal Music
Music Club
MUN Club
Candle Making Club
Round Square
International Exchange Program
The school has been the CBSE National Hockey Championship five times in a row and the IPSC Inter Public School National Hockey Champion for Nine consecutive years.