Reading Time:
5
minutes
A lot of times we would have heard our children coming to us and excitedly talking about her/his new friend who joined the class in the middle of any term and who has recently moved from some other city. We must have attend one of those farewell parties of our dear friends who would be shifting their location very soon to chase their dreams of a new life in a different city as part of their new, polished designation. This move or a location change is one of the most important aspects which determine a child's well-being in the growing years, the impact of which differs with the child's age.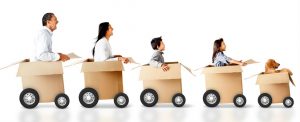 "Residential Mobility" – as the term itself suggests is the change in the residence either in the same town or a city and may also be the shift in the dwelling setup to a different community or a country. This change may be listed under several characters, be it personal or professional…here we would be looking at the impact of Residential Mobility on the children.
Reasons:
The reasons for a change in the location could be varied depending on the elements which would enforce them to take a big step of change in their pavilion. These differ from person to person and even from one culture to another.
Family and belongingness: Many a times, the adults who are employed in a different location far from their families are forced under the emotional grounds to come back to their roots for various reasons like to take care of their parents who are either missing them badly or a necessity from elders who seek emotional and physical assistance during the dusk of life.
Professional compulsion: The usual and the most common reason for anybody to shift to a new abode in a different part of the map would be the obligatory necessity from the company to relocate from the present location to another as its the demand of the job. This reason for sure takes away the lion's share among the reasons being listed for Residential Mobility.
The place, the preference, the passion: Residential mobility not always mentions that the shift would be coming back to your hometown and settling down for a comfortable and an adaptable living. It could be vice-versa as there are times when people move out of their comfort zone to either explore the experiences at various places in the globe or find staying in a different country/city more comforting due to the likeness developed over the place or the fondness towards the work culture followed in that place. A favourable living condition could be coupled with its own list of reasons for us to like it.
Relationship and its complexities: This is one of the painful ones as the ultimate happiness anyone would yearn for is to earn happiness by sharing it with those who care for us, who are always there for us. Couples who are separated/divorced, families separated due to unwanted disputes or any unforeseen death and similar circumstances could lead us to move out to a different place temporarily or permanently.
The reasons could be as important and as lame as possible depending on the scenarios we face. These decisions are taken by adults/parents which could make an impact on the young minds. Let's try to make a list of few positives and negatives about this whole topic.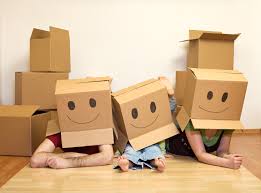 Pros:
This may boost a child's adaptability and confidence that passes all kind of socio-demographic changes.
Weather conditions, food preferences, brand new neighbourhood, new friends…your kid is going to shape up to be an explorer and remain one for a lifetime who would have lots to tell for his/her coming generations.
Studies suggest that more the kids are introduced to newer environments, lesser are their chances of turning up to be an introvert.
Change in the location could erase any unforgettable, unfavourable incidents occurred at the previous place which bothered them for long. Ex: A neighbourhood boy your child was scared of his bullying attribute.
The new place comes with a new culture and sometimes a new language. Learning a new language and accepting a new culture is always considered an A+ idea to develop a child's cognitive skills.
If the relocation happens to a place where your family stays, this would bring your child more close to his/her flesh and blood. This fulfils a sense of security and that ecstatic feel of belongingness which your child was longing for. The same reason why we enjoyed visiting our grandparents during vacations.
Cons:
If the reasons include a separation in the family, this may lead to the lack of belief in any kind of relationship. This further adds up to low self-esteem and a sense of dejection from the person whom the child trusts and darts for an emotional consolation.
If not monitored properly, the changes in the culture may also lead to a changed attitude which may not turn positively. Discretion has to be observed either while making new friends or adapting to new cultures. Unlearning essential values would be fatal.
Putting an abrupt end to an established friendship in the previous place could affect the child based on the age. According to the psychology professor of Virginia University- Shigehiro Oishi, the Residential Mobility plays a vital role in the behavioural changes of an adolescent than compared a 10-year-old as the peer group adaptability is often high with the teenage population. The lack of performance is seen at school as they are not ready to accept this change and fall prey to teenage depression.
Stress to cope up with the weather changes, food habits or even time zones.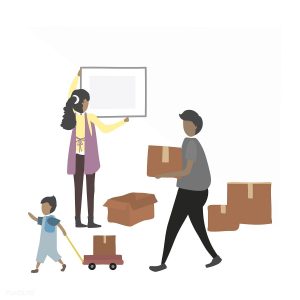 Steps to tackle the monster in mobility:
Prepare the kids way before the last minute change. Informing them as soon as a decision is taken to give them some time to digest this fact.
Spending more time with them to understand their expectations and preferences. Convincingly taking to them about how exciting and also how safe the new place could be one of them.
Visiting places of their interest in the new location like museums, lakes, outdoor activity arenas, zoo, theme park and so on. Make them fall in love with this new friend – "The new place".
Arrange play-dates with the new kids at the neighbourhood to get well acquainted with the place and its residents.
Engage your loved ones in any kind of activities which would include a group of like-minded people. Ex: Swimming, skating, camping, dance classes etc.
Changing the ambience of your usual home setup protocol like new artefacts, paintings and excluding a few elements which would make them miss their humble old place would make a difference. Lighten them up with new changes that would less seldom make them ponder over the past.
Keep visiting your old location, as a total disconnect is also not advisable.
Put your techno freak kids to good use by asking them to connect with their grandparents, friends, buddies via video chatting, internet calls on a regular basis. Online gaming with your preferred buddy is also available today which makes you choose whom to play your game with. So next time you catch your son playing a game of solitaire with his grandmother or your daughter playing fantasy doll dressing up the game with her cousin online…take a sigh of relief.