Reading Time:
3
minutes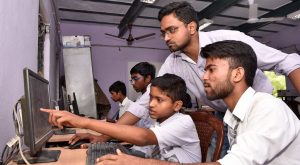 Gone are the days when you would be just day-dreaming about flashy IT career whilst watching the clock at your monotonous job. Software Engineering is considered one of the best career options, not only in India, but globally. It deals with the development of system and application software. To be successful in this field, one must have knowledge of software development, programming languages and operating systems. Some software engineers specialize in network design while others specialize in software design. Apart from programming, which is a must for all the software engineers, there are some others specializations that you must be an expert in to have more options when it comes to choosing a field of software engineering. There are a number of jobs that a software engineer can go for. These include:
1.    Software Development
In this, the coder writes a program to develop a program or an application. These applications can be for desktop or for mobile. There are many areas where software development is used. Be it a hospital or a business organization, all enterprises need software for handling things like databases. There are two types of software. The first one is system software which is responsible for managing the computer. The other is application software which is designed to perform specific tasks. Languages such as Java, Python, C#, etc. are used for software development. Apart from software development, software engineers also develop applications that run on the browser, software to work on computing devices, etc. Also, all the engineers working as the developer are paid well. But before you go all yay, it could be much more if you fall in the range of very-good-to-excellent developer.
2.    Network Administration
This is another career option for a software engineer. This job focuses on dealing with the interaction among computers. Network Administrators manage communication to ensure every information is running properly. First, they install all the software and hardware required for the installation of the network. Under the administration comes the troubleshooting and repairing of the system. It also includes providing a secure environment. Also, if any individual is having issues with the network, the network administrator helps him/her as he is the technical support personnel.
3.    Computer System Analyst
This involves making sure that the employees and the clients of the organization get the maximum benefit from their computer. They evaluate the software programs of the companies and recommend modifications so that it becomes more efficient. They make adjustments in the system to improve the quality of the business processes. They also design new systems and guide the installation of software and hardware required for the new system to work. Basically, they make sure that the company gets the best of the computer and the human resources.
4.    Data Analyst
This job is quite in demand right now. With so much data available, the IT industry needs skilled engineers to store and work with the data more efficiently. This is where data analysts come in. They make data more secure and accessible. It involves the use of math and statistics to manage data. Many organizations including government and private like banking, business enterprises, etc. have a huge amount of data. Data Analysts try to find a pattern in this data to predict future outcomes.
5.    Hardware Engineering
This is also a type of coding. It includes designing and building of computers. The logic that is used to design the computer is the same one used to write the program. There are a variety of computers that have different jobs. They can accomplish these tasks because they are designed in such a way. This includes systems like ATMs, Smartphone, etc.
Apart from the ones mentioned above, there are a number of other career options for software developers. These include:
•    Research Scientist
They invent new approaches to develop new computing technologies. They also improve the existing technology.
•    Support Specialist
They offer help to people in using their software or hardware. They help IT as well as non-IT users.
•    System Managers
They are IT project managers who plan and then coordinate all the computer-related activities in an organization.
•    Security Analyst
They take care of the security measure to protect the network of the organization. With the increase in the number of cyber attacks, security analyst is getting in demand.
So… what are you waiting for?