Reading Time:
2
minutes
Woodstock School, Mussoorie has been ranked amongst India's finest international schools. Woodstock School Mussoorie has also been listed by the Education World-C fore India School Rankings Survey-2012. The School strives for excellence in teaching and learning, offering an exceptional education in a diverse international community.
History
Woodstock was founded in 1854 and has been at its current location since 1856. Initially it was run as girls' school with staff provided by an English mission. While it moved the co-educational way during the 1960s, cross-cultural courses in social studies, literature, art, and religion were also introduced, and Indian classical music and dance lessons were added. Indian universities became more accepting of the Woodstock Diploma, and in 1990 the Association of Indian Universities recognized the Woodstock Diploma as being equivalent to the Indian school-leaving examination, thus allowing graduates to enter Indian universities with greater ease
Academics
Woodstock has been affiliated by the Middle States Association of Colleges and Schools. It uses the Cambridge IGCSE and the College Board AP exams, US which allow its students a strong high school foundation and the needed credentials for further education around the world.
The school also prepares students for university education in India with the Woodstock Indian Mark sheet accepted by the Association of Indian Universities as an equivalent to the 10+2 stage in the Indian education system.
Infrastructure
Woodstock is located 1 kilometer outside of Mussoorie and the vast 250-acre campus lies within a protected green patch in a peaceful and tranquil environment.
The senior school building has classrooms for 9-12, well-equipped science laboratories, library, and auditorium which offer up-to-date lighting, sound and stage equipment. The media centre houses several classrooms, two computer labs, an auditorium and a spacious art studio. The impressive new Win Mumby Gym has an international-standard basketball court, squash and badminton courts, a climbing wall, fitness centre and other facilities for the overall development of its students. The gym is also the venue for large community events, including graduation. The music block has studios, practice cells, ensemble rooms, and an Indian music studio and music library.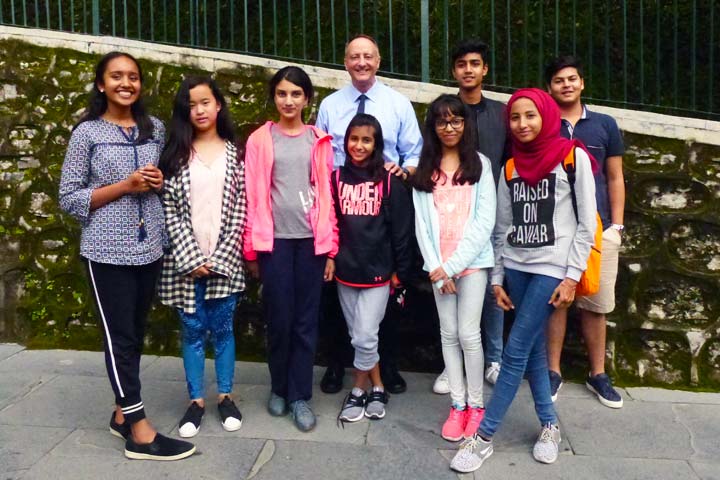 Activities
Sports at Woodstock are not separate from other aspects of student life, but integrated into the holistic curriculum that integrates academics, residence and enrichment activities. School sports include badminton, basketball, cricket, cross-country, football/soccer, swimming, squash, table tennis and volleyball. Weekly activities expose students to even more athletics, including rock climbing and ultimate frisbee.
Alumni
Some internationally acclaimed personalities have been a part of this reputed institute ;