Reading Time:
3
minutes
Bangalore, the Karnataka State capital and the 'Silicon Valley of India' is not just known for its developed IT infrastructure, it also holds a remarkable stand in having the best education facilities. It houses some of the best pre, day, and boarding, and international schools making a significant contribution to its educational space. Boarding schools are considered the prime educational initiative owing to their expertise and orientation towards discipline, pedagogy, curriculum, co-curricular and sports. The city of Bengaluru boasts both new and fine wine boarding schools. Here are the Top 5 Boarding Schools in Bangalore presenting the hallmark of academic supereminence to the city.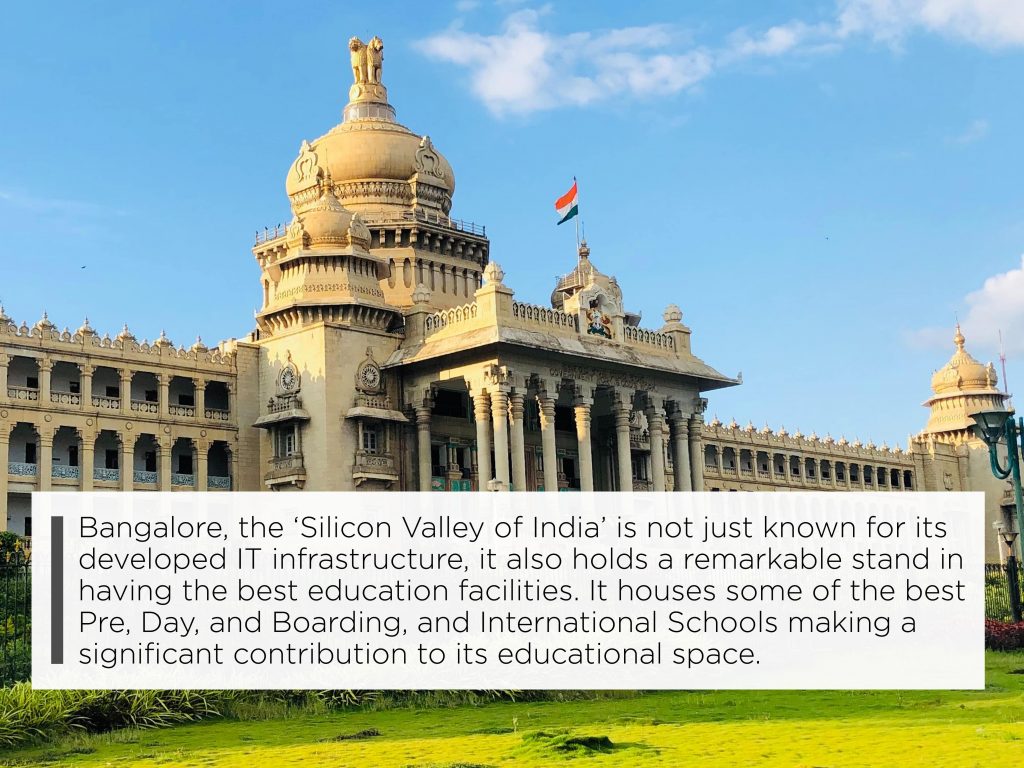 Ebenezer International School
Residing in a prime location of Bangalore, near Electronic City, Ebenezer International School is one of the best boarding schools in Bengaluru. It is extended across a sprawling 12-acre campus coupled with state-of-the-art facilities and ergonomically designed infrastructure. Besides academics, the school offers a bunch of co-curricular and sports activities including an art center, knowledge hub, swimming, cricket, archery, skating, horse riding, swimming, aerobics, and Zumba. The institution aims at building lifelong learners by making effective use of technology to provide opportunities that shape independent research skills, critical thinking, and intellectual inquiry.
Year Established: 2006
Board:
IB PYP for class I to V
CAIE and ICSE curriculum for classes VI to VIII
IGCSE and ICSE for classes IX and X
IBDP for classes XI-XII
Gender Specification: Co-educational
Classes taught: I to XII
Stonehill International School
Stonehill International School is a path-breaking residential school nested in North Bangalore, 20km from the Kempegowda International Airport. The institute boasts a lush 34-acre area featuring two-story facility purpose infrastructure having a building dedicated to STEM subjects (Science, technology, engineering, and Mathematics), a multipurpose sports hall, swimming pool, football field, and basketball courts. The school follows the vision of providing stimulating and engaging learning integrated with opportunities for innovation, sports, and arts. The school offers a safe, and encouraging environment highly conducive to learning. It has a rich diversity with students from around 35 countries including India.
Year Established: 2008
Board: IB
Gender Specification: Co-educational
Classes taught: VI to XII
The International School Bangalore
The International School Bangalore is a preeminent boarding institution situated in NAFL Valley, Bangalore. The school has breathtaking and gorgeous 140 acres of grounds complemented with impressive facilities to empower learning. It offers around 45 different sports and activities including student clubs, coding, economics, art, aviation, ballet, entrepreneurship, trinity speech, drama, and more. The school also hosts an annual cultural and academic fest run by students, Vivum, which is India's largest fest led by students. The boarding community at TISB maintains an open environment of trust and respect between the boarders and staff members.
Year Established: 2000
Board:
IGCSE and ICSE for classes IX and X
IBDP for classes XI-XII
Gender Specification: Co-educational
Classes taught: VI to XII
Bishop Cotton Girls' School
Named after Bishop George Edward Lynch Cotton, the son of an Army captain, Bishop Cotton Girls' School is one of the oldest and exquisite boarding schools for girls in Bangalore. The school has consistently empowered girls from a straddling timeline of three centuries. The institution has been walking hand in hand with the quantum leaps of education and has upgraded its infrastructure with new buildings, spacious classrooms, laboratories, research facilities, a multimedia center, a swimming pool, and a well-stocked library. Bishop Cotton Girls' School has always been known for its holistic approach with exemplary academics and co-curricular focus. It has also been awarded the International School Award by the British Council.
Year Established: 1865
Board: ICSE
Gender Specification: Only girls
Classes taught: V to XII
Redbridge International School
Redbridge International School stands among the Top 5 Boarding Schools in Bangalore established with the vision of creating and nurturing a learning culture that believes in the ability to bring a change through education. The school has a beautiful, green 3-acre campus that gives an aesthetic appeal, safe environment, and close interaction with nature. It has an academic block, robotics lab, advanced computer and science laboratories with dedicated spaces for dance, drama, and music. Besides, the school has professional indoor and outdoor facilities for all sorts of games and co-curricular activities. 
Year Established: 2013
Board: ICSE, IGCSE, IB
Gender Specification: Co-educational
Classes taught: IV tO XII
Bangalore is a charming city with the best residential schools. These Top 5 Boarding Schools in Bangalore hold a significant spot in strengthening its educational richness. Boarding schools play an integral role in getting the best of children's potential followed by fueling their interests. When it comes to selecting a boarding school in Bangalore, it might get a little confusing with so many options and information. Edustoke can help you find the best boarding school in Bangalore with its collated list of institutions and counseling by experts.