Reading Time:
3
minutes
After searching boarding schools across lengths and breadths of country, filling out the application forms, giving the entrance exams, and undergoing the interview process, you finally found the "best boarding school for your child". So, what's next? Yes, paying the fees and getting the admission confirmed. Boarding schools serve a diverse population of students living in a supportive environment learning about responsibility and independence that helps them develop a perspective beyond classroom walls that day schools don't offer. But for many people, the annual price tag of boarding school sounds like more of a roadblock making them avoid even considering boarding schools in the first place. 
So, what's the way out? There are many options that parents can go through while getting their children enrolled in a boarding school. And since boarding schools involve quite an amount of money, it is worth exploring the possibilities you've got.
First things first – Understand the boarding school fee structure
Before you get on to the options you have for paying the annual fees, you must understand the fee structure. It is imperative to know what are the various charges involved and what are the extra expenses. This can consist of the application cost, tuition fees, lodging cost, food expenses, sports fees, computer fees, labs fees, maintenance fees, and deposit. Besides, every school has some discretionary activities that need to be shortlisted as per the child's interests. Once you understand the fee structure, you can start seeking options to pay the same.
What are the options to pay the boarding school fees?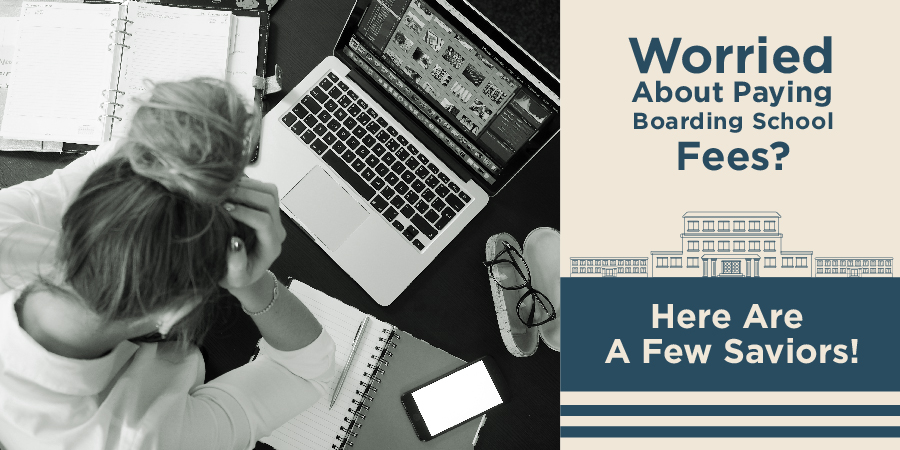 Well, the students in boarding schools come from all sorts of backgrounds, and schools have many facilities to ensure this balance. So, even though hearing of boarding school annual fees might feel daunting at first glance, it is still a feasible option. So, let's peep into the ones available!
Financial aids
In the simplest terms, financial aid is a grant that does not need to be repaid. This is because the aid is from the school's budget. The families have to demonstrate the documents like the income certificate, address proof, property verification, financial statements, etc. to qualify for the financial aid. There is no academic qualification needed for this. But yes, not all the boarding schools have financial aid available, one can enquire about the same in the school's office. 
Scholarships
Scholarships are grants provided to students who have accomplished academic, sports, or artistic excellence. These don't have to be paid back to school. Many times, the scholarships are awarded based on the entrance exam or sports trial the boarding school conducts and are a great way to cope up the boarding school fees.
Tuition fee payment plans
Boarding schools understand that not everyone has the resources or money to pay the annual fees in one go and therefore most of them have the facility allowing parents to pay the fees in installments. This comforts the heavy pressure on the parents to pay a huge amount together and can be paid monthly. The installments can vary from two to ten installments a year depending on the school and parents' convenience. The installments don't have any extra interest rates associated; it is just the annual fees divided into smaller fragments. 
Loans and financing tuition fees
Many boarding schools have a bond with major banks to have loan possibilities to pay for the boarding school fees. This is more or less like the education loan and requires credit checks and needs repayment in the given time along with the interest. However, these loans don't have very high-interest rates like consumer loans so can be considered. 
State Financial Aids
The various states in India support economically weaker students through scholarship and fee reimbursement programs. One can keep a check on government or private financial aid that can be another way to pay the boarding school fees.
Paying for boarding school fees is not exclusive to families having high incomes with the numerous available opportunities. Whether you are thinking of getting your child enrolled in a boarding school or your child's application has been accepted, enquiring about the fee payment options and aids available is a good practice. Talking to the school authority in person can help you find answers to all your questions and uncertainties and help you find a payment structure that works effectively as per your requirements. Again, applying for such aids, loans and scholarships can still be a stressful experience, so request all the information beforehand from school and have your doubts clear. Be in touch with administrative staff to make all of this hassle-free. Check out the best boarding school here.