Reading Time:
4
minutes
India holds great value in terms of its pedagogy, diversity, social well-being, culture, and economy. From play level to post-graduation, it is a hub of education with premier institutes contributing to its rich didactic worth. The K-12 Education Ecosystem In India creates a compelling case for schooling creating harmony between institutions, population, and learning approaches.
India boasts national and international level institutions in all disciplines of education. The K-12 education system here can be broadly divided into primary education, secondary and senior secondary education. Often before primary education, parents consider a pre-primary mode of learning through playgroups or pre-schools. This system goes from kindergarten to 12th and undergoes 14 years of education and exploration.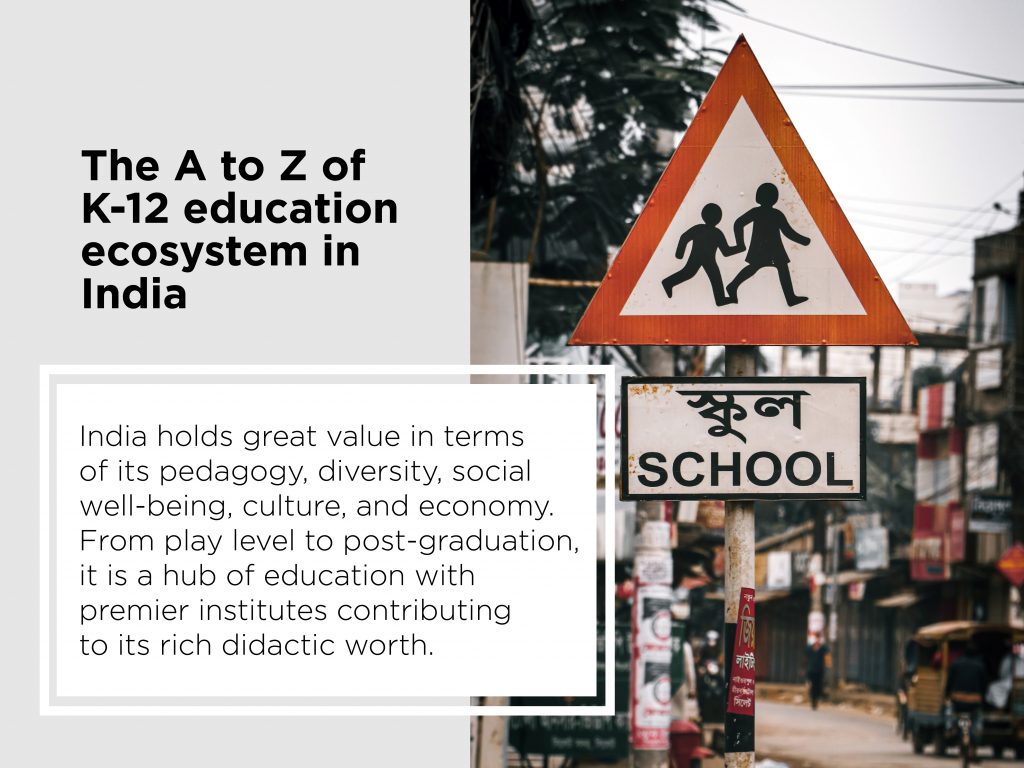 Pre-Primary School Education
A play school is where kids between the ages of 2 to 5 years learn the basic learning blocks. There is no formal way of learning, nor any predefined course or syllabus. The focus here is more on developing the social, and mental being of a child so that he can adjust to the pace of learning when he enters school.
Proceeding the playschool education, the pre-primary schooling has classes Nursery, LKG, and UKG where a child finally enters the K-12 education sphere and starts erudition. At this level of pedagogy, they are not exposed to complex learning, but rather experience basic learning like alphabets, poems, shapes, and basic calculation. The main focus at this stage is to create curiosity and a fundamental base of learning.
Primary Education
Primary education includes classes 1st standard to 5th or the Primary Years Program (International Board). It can be considered the first stage of formal education a child receives after stepping up from kindergarten. Here the child learns according to specific subjects, including Mathematics, Science, Social Science and language. One can find the Best Schools in Bangalore that help children develop and explore their creative, motor, community, oratory, and learning skills at the primary level. 
Secondary education
Secondary education comes up with the introduction of new concepts and subjects. The subjects that were earlier taught as basic get into detail, like Social Science gets divided into History, Civics, Geography and Economics, and Sciences gets fragmented into Physics, Chemistry, and Biology. The main aim of learning here is to make children explore what interests them in pursuing higher education. This lasts from classes 6th to 10th or the Middle Years Program (International Board).
Senior Secondary Education
The senior secondary level is the higher level of education where students select the stream they want to study. Broadly, the Science, Commerce, and Arts streams can be opted according to the academic interest of the child. This includes 11th to 12th standard, PU Diploma Courses, or the Diploma Program (International Board).
These 14 years of education help a child to get the best of his potential, explore his interests, and build confidence, social skills, and moral values that stay with them throughout their lives. Besides, focusing on academic excellence, the K-12 Education Ecosystem In India gives equal attention to developing the sports interest, creative skills and moral building of students.
Educational Boards
Well, the K-12 system is diverse and consists of many educational boards from State Board to International Boards. Each of these follows a different curriculum, examinations, and learning approach, here are the boards of education in India:
State Board: This is the board of education that falls under the State Government, each state follows its curriculum and examination format for students. It gives preference to the regional language, culture, state-level topics, and concepts of local relevance.
CBSE Board: CBSE Board or the Central Board of Secondary Education envisions a robust, vibrant, and holistic education that engenders excellence in every sphere of human endeavor. It is a national board of education for public and private schools founded with the aim of inter-state integration and cooperation in the sphere of secondary education, managed by the Government of India. Parents can find the Best CBSE Schools in Nagpur to provide quality education and promote intellectual, social and cultural vivacity.
CISCE Board
CISCE or the Council for the Indian School Certificate Examinations board consists of ICSE (Indian Certificate of Secondary Education) board for conducting class X examinations and ISC (Indian School Certificate) for class XII examinations. It is a privately-held national level board established to manage the examinations being conducted in India by the University of Cambridge. Best ICSE Schools in Indore offer students a holistic education with enough focus on practicality and understanding.
International Board
Besides the State and National Boards, the K-12 Education Ecosystem In India also houses the schools affiliated to the IB or the International Baccalaureate and IGCSE or the International General Certificate of Secondary Education, Cambridge University. The international board helps students gain a global perspective on education with a more practical and application-based curriculum. The International boards have a broader spectrum of subjects contributing to comprehensive development and helping students be global citizens. The Best International Schools in Ahmedabad emphasizes developing an international perspective in students. 
The landscape of the K-12 Education Ecosystem In India has undergone quite an overhaul in recent times and still, a lot needs to be done. With new formats of education emerging, including a progressive and practical way of learning, shows a promising future with improved learning experiences and outcomes.