Reading Time:
2
minutes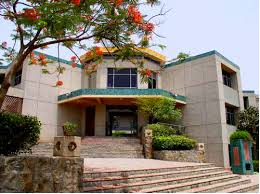 The grey stone buildings trimmed in turquoise that are set among playing fields and gardens are home to The Shri Ram School, Moulsari Campus in DLF Phase III, a unique centre of learning for some fourteen hundred students and staff.
The mission statement declares that the child is the centre of learning and at the Moulsari campus this is the mantra of our life.
The calendar with its mix of academic and co-curricular activities testifies to our students' ability to think independently and express themselves boldly and imaginatively. The close parent-teacher partnership is vital in ensuring we raise children who are sensitive, proud of their heritage, possess integrity and strive for excellence – who leave our portals confident, capable and truly global citizens of whom the entire Shri Ram community can be proud.
Origin
The Shri Ram Schools were born out of the ideology that children must be given an environment that makes them want to come to school every day. The schools, which were founded in 1988 by Mrs. Manju Bharat Ram, follow her personal principle of promoting individuality through value-based education which promotes a global outlook yet retains intrinsic Indian cultural traditions. Her guidance has also led The Shri Ram Schools to lay a great emphasis on inclusiveness.
Curriculum
At TSRS Moulsari, learning is diverse and thus caters to a variety of needs in the students.
At the Middle School level, skill and concept building are the main objectives, keeping in mind the different Board exams the students will eventually take. At the same time we strongly believe that they should enjoy the learning process so we take FUN very seriously!
The students are meticulously prepared for the ICSE or NIOS (Secondary) board exams which they take at the end of class 10. In grades 11 and 12, the students have the option of choosing the IB, ISC or NIOS (Senior Secondary) course to study, depending on what they wish to take up in the future. There are specially trained teachers to deliver each curriculum.
Activities
At the Shri Ram Schools, we believe in nurturing a student's interests and latent talents that may lie outside the realms of academia as these are essential in the holistic development of the child's character and outlook. They help to draw out his or her creativity, skill and above all, the spirit of excellence that they all possess.
The school offers a variety of societies and clubs for the mental and creative growth of the students.
Here is just a brief selection of the various kinds of co-curricular activities TSRS has to offer its students:
The Dance Society
Debating Society
Drama Society
Heritage Society
Economics Society
Music Society
Science Society
MUN Society
Aero-modelling Club
Chess Club
Paryavaran Club
Robotics Club
Theatre Club