About The School
Foin 1995 by The Williamson Magor Education Trust and spread over a sprawling 95 sylvan hectares, The Assam Valley School aims to prepare children for life and for global citizenship in the twenty first century. The school has been established for the education of both boys and girls from primary through secondary school and it is amongst the top ranking residential schools in India. Its architectural design and its wide range of facilities, not only help the students attain their fullest academic potential, but also pose challenges to them in the equally rich fields of physical, cultural and artistic endeavors. Please visit this link for a 360 degree campus walk through: - http://iviewd.com/avs/
Ms. Sonya Ghandy Mehta, is a graduate in Psychology and Education. After completing her Master's in Special Education from the University of San Diego, USA she has had over 22 years of experience in teaching and administrative responsibilities of which over 12 years have been in Mainstream schools. Previously, Ms. Mehta has been associated with Indus International School, Bangalore, in various capacities for over 8 years; starting from being a teacher to Curriculum Coordinator to Director of Curriculum for the Indus Trust. She has also served as an adjunct faculty to the Indus Training and Research Institute (ITARI) where she taught two modules to trainee teachers as part of the Keele Post Graduate Diploma in International Education (PGDIE) and was the Coordinating Mentor for 2 years. When the Indus International Community School for underprivileged children was setup, she was actively involved in developing the curriculum as well as training the teachers.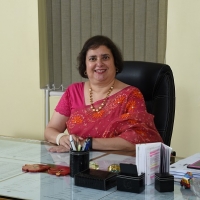 Fee Details
Fee Structure - Indian Nationals
Security Deposit :

₹ 40,000

Other One Time Payment :

₹ 125,000
Fee Structure - International Students
Security Deposit :

US$700

Other One Time Payment:

US$ 2,150
Building and Infrastructure
Blessed with world class infrastructure and a progressive educational environment, AVS echoes the ethos of twenty-first century education where tradition embraces modernity. In the midst of the extensive play fields and the lush green campus, the school buildings stand aesthetically designed to accommodate the state-of-the art infrastructure to cater to the needs of growing children and exemplify the traditions of local architecture. Please visit this link for a 360 degree campus walk through: - http://iviewd.com/avs/
Boarding / Residential Facilities
Details of Hostel accommodation

A well-structured Pastoral Care System is central to the operations of the school. There are seven boarding houses accommodating 800 students. Three of these boarding house are for the girls while four are for the boys. There are separate buildings for the junior and senior students. Each House is led by a Housemaster / Housemistress, supported by a team of Tutors and a Dame. The Boarding System of the school runs on the principles of in-loco parentis. The Tutors play a pivotal role in the growth and well-being of the students. The Boarding Houses are equipped with Wi-Fi connectivity. The school has a well-equipped Health Center with a Resident Medical Officer and Nursing Staff to take care of those who need medical attention. The resident Life Skill Counselor and the Child Protection Officer are always around to help the students. The school has developed a Life Skill Training Program in association with a Pediatric Counselor in accordance to the Ten Core Life Skills established by World Health Organization. There are two separate Central Dining Halls for the boys and girls which serve hygienic, nutritious, wholesome vegetarian and non-vegetarian meals to the students.

Details of dinning facilities

2 separate Central Dining Halls for boys and girls with separate veg and non-veg counters

Details of medical facilities available for hostel students

The school has its own hospital with a Resident Medical Officer and Nursing Staff. We have tie-ups with all major medical facilites and specialists in Tezpur and Guwahati. We have a fully-equipped ambulance as well.

Nearest Hospital

The school has its own hospital with a Resident Medical Officer and Nursing Staff. We have tie-ups with all major medical facilites and specialists in Tezpur and Guwahati.
Admission Details
Admission Start Month:

September
Admission Process
Entrance test and Interview
Other Key Information
Establishment Year :

1995

Seats at entry level class :

75

Boarding seats available per year :

125

Total Student Strength as on date :

800

Student Teacher Ratio :

9:1

Language of Instruction :

English

Nationalities represented :

Nepal, Bangladesh, Bhutan

Number of International students :

10
AWARDS & RECOGNITIONS
School Ranking
No.1 residential, co-ed school in Eastern India, No. 4 residential, co-ed school in India , No. 1 in India for Infrastructure, No. 1 in India for co-curricular education
Academic
It is a popular belief that boarding schools do not produce good results in academics but AVS breaks this myth year after year. The school posted fantastic results in Public Examinations in 2018 with the ICSE Batch consisting of 141 students, scoring an impressive class aggregate of 86.8%. The ISC Batch consisting of 106 students posted even better results with an astounding class aggregate of 89 %. The Science stream topped the charts with an unprecedented class aggregate of 91%, followed close on its heels by Commerece with 90.7% and Humanities with a laudable 87.4%. The students graduating from AVS get admission into some of the best institutions for tertiary education around the world. The school offers a wide range of subjects across all levels. These subjects are divided into Science, Commerce and Humanities streams at the ISC level. The Science Programme offers Mathematics, Physics, Chemistry, Biology, Computer Science and Bio-Technology as options. The Commerce Stream offers Accountancy, Commerce, Economics and Business Studies and the Humanities Stream offers History, Political Science, Sociology and Psychology. While the focus at the Upper School level is on Examination Skills and preparing the students for University Courses, the Lower School concentrates on Active Learning and allows the children to be the driving force behind their own learning.
Co-Curicular
The rich and varied Activity Programme creates wonderful platforms for the budding performers and artists. The school offers more than 30 options across Art, Sculpture, Music, Dance, Dramatics, Craft & Design, Public Speaking, Electronic & Print Media, IT and various other categories. Each year, AVS bags a rich haul of medals at the Pune Music & Dance Fest organized by ABSS across various categories of Dance and Music. The school can be proud of its achievements in IPSC Dramatics, Music, IT and Visual Arts Competitions. To ensure a good environment for training, there is a Craft, Design and Technology Center, an Art Hall, a Pottery and Sculpture Hall, a Photo studio, a Media Center, a Publication Center and separate facilities for Western and Indian Music and Dance. The Social Service League of the school undertakes a number of projects through the year which give the students the opportunity to make valuable contributions to the lesser privileged that live close to the school. Adventure Engagement is an integral part of education at AVS. The school organizes inland and overseas tours to various destinations. AVS is a global member of Round Square which is a worldwide network of innovative schools in 50 countries across 6 continents. The students participate in Round Square Service Projects and Conferences regionally and internationally through the year. The Exchange Board facilitates reciprocal Exchange Programmes with a number of schools and International Exchange Programmes through American Field Service. In recent times, the students have gone on Exchange Programmes to China, Spain and Finland.
Sports
The impressive academic programme makes up only one part of the education AVS believes every child should have access to and the school is committed to providing the students with a holistic education by promoting sports, cultural pursuit, adventure and social service. Believing that a school is only as good as the quality of opportunities it offers to its students, the school constantly endeavors to create such possibilities where the students can explore and express themselves. The school has had phenomenal success in terms of achievements in Sports and Cultural pursuit. At AVS, Sports is a way of life and the school is blessed with some outstanding athletes. The high level of achievement in Soccer, Tennis, Swimming, Archery, Squash, Track & Field, Taekwondo, Equestrian events and Cricket Championships is a testimony to the diligent work put in by the students and their coaches. Many of the young achievers have been drafted into IPSC Teams and they have had the exposure of participating at National Level Championships organized by School Games Federation of India. These achievements are a result of an unparalleled Sports infrastructure which includes a swimming pool, a Riding School, synthetic tennis courts, indoor basketball and badminton courts, a separate facility for cricket with modern equipment, four large football fields, a 400-meter track, a marathon course, a driving range for golf and an archery range among other facilities. Each major sport has a dedicated coach to hone the skills of the students.
KEY DIFFERENTIATORS
AVS is a young institution having very young Alumni and yet, they have started getting recognition for their work around the world in the fields of Literature, Journalism, Economics, Performing Arts, Sports and Social Service. AVS is a great institution in the making and its vision, work culture and value system will certainly produce confident, successful and compassionate citizens beyond boundaries.
The Academic Programme of the school is well-supported by the facilities provided to the teachers and students. The Main School Building houses the aesthetically designed classrooms and laboratories for Physics, Chemistry, Biology, Mathematics, ICT and Bio-Technology. The school encourages the use of modern technology in its teaching learning systems and to support that, each classroom is equipped with Smartboards and Wi-Fi connectivity. The assignments are given to the students aim at promoting research, collaboration and team-work. The school has a state-of-the library having 19,600 Titles and subscription to 56 magazines and 14 newspapers.
The resident Life Skill Counselor and the Child Protection Officer are always around to help the students. The school has developed a Life Skill Training Program in association with a Pediatric Counselor in accordance to the Ten Core Life Skills established by World Health Organization.
The school conducts a number of in-house and outsourced workshops for its students and teachers through the year in order to imbibe global best practices in education. Initiatives such as Mindspark, Abacus, Science Adda and Design-n-Experiment make learning interesting and purposeful. The students participate and excel in competitive events such as Australian National Chemistry quiz, KVPY, NCO, NSO and NTSE. The classes are divided into sections with each section having an average of 25 to 28 students thus providing for individual specific attention. A globally competitive Teacher-Taught ratio of 1:9, a well-structured Remedial Programme, and a dedicated facility for Special Education Needs ensure that no child is left behind in academics.
Results
Academic Performance | Grade X | ICSE
Academic Performance | Grade XII | ISC
Travel Information
Nearest Airport
Tezpur Airport
Distance : 15 Km.
Nearest Railway Station
balipura railwat station
Distance : 14 Km.
Total Views : 3561
Similar Schools