About The School
Cambrian Hall aims at providing equal, affordable and quality education to the youth, with the aim of producing caring and responsible citizens and leaders of the future. We strive to equip students with skills that will allow them to keep pace, adjust and lead in a rapidly changing environment. We have devised a flexible approach to learning, incorporating local and global perspectives that lead to academic excellence and a balanced life. The school's motto; 'To Greater Heights', drives every child in the school to pursue the values of excellence, innovation, high standards, unity in diversity and service to humanity.
Rani Chandra Raj Laxmi Rana was born in Kathmandu wife of the Col Shashi Shumshere JB Rana who is the founder and president of Cambrian Hall and the founder member of Cambrian Hall Educational Trust.She took the reigns of Cambrian Hall after sad demise of Col Shashi on 12th July 1988.Following the footsteps of her husband the present president has taken the school to Greater Heights.She is a commited educationist and a social worker and has contributed a lot for the uplifment of Gorkhali Society.She has been awarded Doon Ratan Award and Uma Shakti Award in 2018.
Dr Sudesh Biala was born on 22nd January 1950 in Amritsar.He is an MA(Hindi,English),Ph.D,B.Ed.HE was the housemaster for almost 27 years in the premier most residential schools of the country-The Scindia School &The Doon School.He worked as Principal of different schools since 2001.His main publications were Himalaya Ki Ore,The Doon Adventure Stories,Kailash Manas Ki Ore and Aakhir Kab Talak.He was nominated member of 'Hindi Salahkar Samiti 'Youth Welfare and Sports Ministry,Govt of India from 2006 to 2009.He received 'Spardhashree Award" from All India Unique Sports and Cultural Organization in 2005.He was also given World Disaster Education Award from "International Association of Educators for World Peace" in 2005.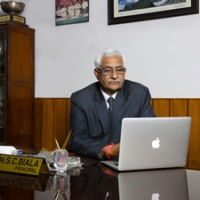 Please Login to see important information
Key Information
Type of School :

Day Cum Residential

Afflilation / Examination Board :

ICSE

Grade-Day School :

Class 1 till Class 12

Grade-Boarding :

Class 4 till Class 12

Min Age for Admission - Day School :

5Years

Min Age for Admission - Boarding :

NA

Seats at entry level Grade-Day School :

140

Language of Instruction:

English

Average Class Strength :

35

Establishment Year :

1954

Swimming / Splash Pool :

No

Student Teacher Ratio :

35:1
Fee Details
Fee Structure - Day School
Transport Fees :

₹ 5400

Security Fees :

₹ 40000
Fee Structure -Boarding
Indian Students
Admission Fees :

₹ 3,000

Security Deposit :

₹ 35,000

One Time Payment:

₹ 44,500

Yearly Fees :

₹ 225,000

`
Boarding Related Info :
Total seats at entry level Grade :

25
Boarding Facilities For :

BOYS
Hostel Admission Minimum Age :

09Y 00M
Admission Details
Admission Start Month :

21 January
Admission Process
The entrance examination is held on the 2nd Saturday of February followed by an interview for the students who qualify in the written examination.
AWARDS & RECOGNITIONS
School Ranking
It is a matter of great pride to report that the students of Cambrian Hall,have bought laurels to the school with the detailed results given below: ISC(12TH):Sakshi Thapa topped with 96.75% in Science followed by Ekta Sharma(94.5%);Trisha Goyal (94%),Jasmine Thapa(93.25%),Medha Aggarwal (93%),Kshitij Kalauni(92.75%);Bhavya Sharma (92%),Nandini Pathak(90.5%)2) Arts Stream: Bhavya Sharma topped the school scoring 92%.Commerce Stream: Ekta Sharma topped the school scoring 94.5%Following were the subject toppers:Physical Education: Sugandha Srivastava,Abhinav Sharma;Bhavya Sharma;Mayank Kumar and Wankarami Lhuid all have scored 100 marks.
KEY DIFFERENTIATORS
Science labs
Language labs
Educational tours
Results
Academic Performance | Grade X | ICSE
Academic Performance | Grade XII | ISC
Total Views : 3415
Similar Schools
Get expert advice from our counsellors
Get expert advice to find and get your child admitted to the best boarding school that meets your expectations.
Click Here to know More